Ward 1 Update: Final FY22 Budget Investments
Hi neighbors,
Budget season has ended so I'm sharing with you what the Fiscal Year 2022 budget includes and a few community updates. I also want to make sure you've heard about the latest mask mandate and vaccine mandate for public employees.
Mask Mandate & Vaccine Mandate for Public Employees
The Delta variant is more contagious than the original strain, and just like the rest of the country, the District is seeing an increase in community spread. On July 31, the Mayor announced a mask mandate for indoor spaces for residents over the age of two, even for fully vaccinated persons. The latest research shoes that even vaccinated people can spread the variant, so the purpose of the mask mandate is to prevent the spread and keep each other safe. We are hoping that no additional measures will be needed. DC Health has shared with Council that they are closely tracking and monitoring the data.

A lot of businesses are readjusting again to new guidelines, so please be patient when visiting and be kind to workers as they enforce the mandate. Some businesses have implemented vaccine requirements, so you may choose to carry your vaccine card with you.

Mayor Bowser also announced that all public employees, including DCPS employees, will be required to be vaccinated by September 19. Although this mandate does not extend to Council employees, I am pleased to report that all of the Ward 1 team members are vaccinated.

I want to encourage you to talk to your friends and neighbors who have not been vaccinated or are hesitant. Sometimes all it takes is sharing your own experience about why you decided to get the vaccine. I recently bumped into a resident on my way to a vaccine clinic. She was on the fence about the vaccine, but after we talked, she decided to take the shot. Our work isn't done: every conversation matters!
Fiscal Year 2022 Budget
Mayor's Proposal & Federal Funding
The previous budget was one of the toughest in decades, and with so many unknowns about the economy, many were struggling or at risk of struggling. Between the last budget cycle and this one, our economy did begin to recover. So when the American Rescue Plan provided the District with $2.7 billion in federal aid to help us recover, I knew that this budget cycle would be an opportunity to not only help those who were still struggling, but to invest in critical programming and long term solutions to address the District's most urgent needs. The American Rescue Plan's $2.7 billion can be used only over the course of 2-3 years, however, and many of our needs are ongoing.

Homes and Hearts Amendment Act of 2021
I, along with Councilmembers Charles Allen and Janeese Lewis George, proposed a very modest tax increase on the wealthiest residents to generate recurring dollars. By increasing taxes, we are funding major goals of the Council's landmark Birth-to-Three legislation by raising wages for thousands of early educators, making a historic investment in ending homelessness, and introducing a monthly basic income for DC individuals and families earning less than $57,414 for a family of three. These investments are more than step forward, they will change the lives of thousands of residents and get us closer to closing racial and economic gaps.
The tax increase will only impact around 5% of District residents, and even among those high-earners, the burden will mostly fall on individuals who earn over $1 million in a year. The amendment generates over $100 million in revenue in Fiscal Year 2022, and the revenue generated will increase in the out years.
$53 million will increase the salaries of child care providers, many who are Black and Brown women
$65 million will end homelessness or provide supports for those who are at risk of homelessness for over 2,500 households
$24 million will increase the Earned Income Tax Credit (EITC) from 40% to 55% and establish a monthly payout rather than the current annual lump sum. The investment will begin supporting families in Fiscal Year 23.
I am incredibly proud to be the architect of the housing elements of this amendment. Each year I have been chairperson of the Committee on Human Services I have added more housing to the budget, in an effort to end chronic homelessness. In addition to the housing added through our amendment, other housing investments in the FY22 budget will allow us to house more than 3,000 households. This is truly transformative.
More Budget Highlights

Housing
$400 million to the Housing Production Trust Fund, which is how the District produces and preserves affordable housing
$50 million for public housing repairs
$14 million in Emergency Rental Assistance Program
$11.7 million to establish the Department of Buildings
$100,000 to support community organizations that provide housing resources for returning citizens
Education
An increase of 3.6% to the Uniform Per Pupil Funding Formula to increase schools funding
$3 million to fund out-of-school time programming, including tutoring, mentoring, afterschool and
$9.9 million for the School Based Mental Health Program
$3.25 to fund full-time librarians at every DCPS school
$3.3 million increase for the DC Public Library system
Families
$105 million for the Universal Paid Leave Fund, to expand medical leave benefits from 2 weeks to 6 weeks and add 2 weeks of pre-natal leave benefits in Fiscal Year 2022.
$32 million to fund the "baby bonds" program, which will provide all eligible children born in DC after October 2021 a government-funded account with an annual investment of up to $1,000 until the child is 18 years old
$500,000 to provide community-based nutrition education at Family First DC Success Centers
Labor/Workforce
$28.6 million to exempt unemployment insurance benefits from income taxes
$41 million in relief for excluded workers
$5 million to provide $500 for DC residents who experienced delays waiting on unemployment benefits
$40 million to help small businesses recover from the pandemic
$40 million to assist hotels that experienced significant losses due to the pandemic
Transportation/Environment
Fully funding the Vision Zero Omnibus Amendment Act and creating dedicated funding for safe streets projects by allocating future revenues from automated traffic enforcement
$1.4 million in new funding to target and eliminate lead in DC's water service lines and in residential housing
$377,000 to fund the Electric Vehicle Readiness Amendment Act, which will expand EV charging facilities
$8 million to achieve the District's goal of 80% diversion of waste out of landfills and incinerators by 2032
Equity and Access
$1.1 million to fund the Campaign Finance Reform Act of 2018
$836,000 to fully fund the new Office of Deaf, Deafblind and Hard of Hearing
$1 million for an LGBTQ Community Center
Committee on Human Services
I'm also excited to provide you an update on the important work within the Committee on Human Services. We are focused on preventing and ending chronic homelessness, rebuilding our shelter system, supporting our low-income families and people with disabilities, and now also strengthening our independent ethics board and agencies.

We will also be welcoming two new agencies to our Committee. The Office the Ombudsperson for Children will serve as an independent, impartial office, responsible to the Council and tasked with improving outcomes for children involved with, previously involved with, or other wise known to the Child and Family Services Agency. Office of Deaf, Deafblind, and Hard of Hearing (ODDHH), will advance the civil rights by ensuring and overseeing DC's compliance with laws affecting the deaf, deafblind, and hard of hearing communities.

In the budget this year, the committee funded:
$325,000 for Project Reconnect, to restore a reduction made by the Mayor to a program that provides shelter diversion and rapid exit for unaccompanied adults experiencing homelessness
$310,000 to restore reductions made to multiple programs related to Solid Foundations, the District's comprehensive plan to make youth homelessness rare, brief and non-recurring
$368,000 for the Interagency Council on Homelessness as they work to coordinate implementation of Homeward DC 2.0 and the drafting of the updated Solid Foundations
$935,000 to fund the establishment of the Office of the Ombudsperson for Children
$321,000 for additional staff to help with intake of domestic violence survivors at the Virginia Williams Family Resource Center
$6.5 million to fund the Emergency Rental Assistance Program
$500,000 to fund nutrition education programming at all 10 of the CFSA Families First DC Success Centers
$438,325 to fund additional staff for Board of Ethics and Government Accountability
Ward 1 Projects
I also worked hard to find funding for Ward 1 projects. We will be investing:
$38 million to complete redevelopment of Park Morton, including replacement public housing at larger unit sizes, new affordable housing, a reconnected street grid, and a new neighborhood park
$294,000 to expand Ward 1 and Lower Georgia Avenue Clean Teams
Funding for 66 new recycling bins and staff to service them for U Street, Columbia Heights, Mount Pleasant and lower Georgia Avenue
$175,000 to fund a grant for direct engagement, relationship development and resource brokering to address the systemic challenges faced by some residents that utilize the Columbia Heights Civic Plaza.
$50,000 to fund grants for programming at Columbia Heights Plaza, 14th and Girard Park, and Unity Park
$70,000 for repairs to Unity Park
Full funding for build-out of the 11th and Park Road dog park
$5 million in community planning for new affordable housing and community facilities at the current Engine 9/MPD 3rd District Headquarters
$24 million for development of the Reeves Center at 14th and U into a new mixed-use neighborhood and cultural center
Bus priority projects for Columbia Road NW in 2022 and Lower Georgia Avenue in 2023
$1.7 million for pedestrian and bicycle safety improvements on Georgia Avenue NW
Funding for 30 miles of new protected bicycle facilities, including on Warder Street , Park Place, Kenyon Street, and 9th Street
Funding for the completion of the Florida Avenue NW streetscape, including sidewalk widening by the 9:30 club
$25 million over six years for Ward 1 street resurfacings – see the PaveDC website for paving projects near you
$3 million for activations and pedestrian plaza treatments, including on 18th Street in Adams Morgan
$1.7 million for comprehensive streetscape improvements on U Street between 14th Street and 18th Street NW
Public Safety Investments
Over the summer, I've shared several updates on the work that DC government is doing to address the alarming spike in crime. On July 29, I hosted a community safety meeting with Deputy Mayor Chris Geldart, Director of the Office of Neighborhood Safety and Engagement Del McFadden, and a representative from the recently launched initiative, Building Blocks DC. I wanted to Ward 1 residents to be able to hear from government officials responsible for overseeing and implementing our public safety initiatives and ask questions. I also took questions on the work that the Council has done, as the legislative branch, to address public safety concerns.

I want to thank the Office of the Attorney General, Moms Demand Action DC, No Slide Zone, the T.R.I.G.G.E.R. project, and Collaborative Solutions for Communities for participating and sharing how they are working in the community to prevent gun violence and reduce crime.

The District is investing $214 million in gun violence prevention and related services over the next four years. Here are additional investments in the public safety cluster to be aware of:
MPD's budget stands at $516.4 million. The Council approved a $511.4 million budget for MPD after discussions with Chief Contee at the budget oversight hearing, and hearing his testimony that the department was adequately funded. Then, before the second budget vote, the Mayor sent a supplemental request for $11 million in additional funding to hire more officers. The Council worked to present a compromise of $5 million in additional funding for officers and $6 million in violence prevention.
A total $30.1 million budget for the Office of Neighborhood Safety and Engagement, including violence prevention programming
$2.6 million to the Office of Victim Services and Justice Grants to provide support to survivors and victims
$750,000 to establish grants in the Department of Youth Rehabilitation Services for community-based organizations to support action plans in Building Blocks DC neighborhoods
$7.5 million to expand the MPD cadet program to 150 cadets, which intentionally recruits from the community
$11.3 million to the Office of the Attorney General for violence prevention programming
$1 million for mental health for first responders
$167,000 to fund the new a pilot program that dispatches to 911 calls for mental health crises
I also recently participated in a community walk with Chief Contee and Commander Kim through Columbia Heights. My office will continue to stay in communication with MPD to ensure that residents understand the work that they are doing and their role in public safety.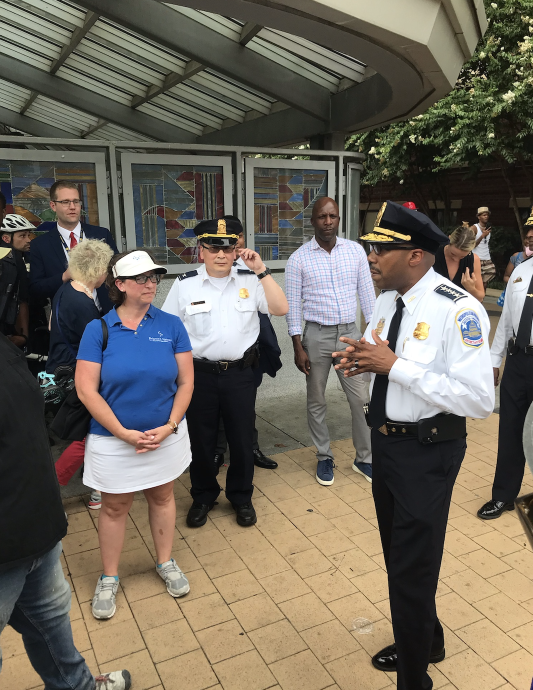 Community Updates
Over the last month, I've coordinated 13 community walkthroughs with our Ward 1 ANC Commissioners. We walked through each Single Member District and identified issues to work together on and discussed potential solutions.

If you're unsure who your ANC Commissioner is, you can use this helpful tool to see who represents you.




DPR 2021 Fall Programming
DPR has opened registration for fall programming. Residents have the opportunity to register for programs, including free fitness classes. Parents will again be able to take advantage of aftercare offerings for the first time since the public health emergency began.

How To Register For a DPR Program:
Create an account, if necessary
Select an age group
Browse location and program type
Select a program, add to cart, and proceed to checkout
Statehood Quilt Challenge
Create a quilt inspired by the opportunity for DC to become the 51st state - the Quilts4DC Statehood Quilt Challenge is now underway through September 30. There will be a virtual quilt show in November and potentially in-person exhibition(s) in early 2022. For instructions, visit https://www.lwvdc.org/quilts4dc. You can also follow the fun on Instagram and Twitter (@Quilts4DC). Quilts4DC is organized by quilters in the DC region in association with the League of Women Voters of the District of Columbia, a non-partisan 501(c)(3).

Leaf Blowers
DCRA is asking residents to plan ahead and prepare for equipment changes to comply with the Leaf Blower Regulation Amendment Act of 2018, which prohibits the use of gasoline-powered leaf blowers in the District of Columbia. Effective January 1, 2022, landscapers who continue to use gasoline-powered leaf blowers will be subject to fines of up to $500 for each offense issued by the Department of Consumer and Regulatory Affairs (DCRA).