Ward 1 Update: Budget, Summer Fun & Fireworks
Dear Neighbors,

I've got updates for you on the Council budget today, and also for those of you who are less nerdy, news about summer fun, celebrations and resources for the whole community. Be sure to read all the way to the end for fireworks safety tips. I am hopeful that as we continue to re-open we can all come together to have a fun and safe Independence Day weekend.

-Brianne
Council Updates
Budget Season
The Council has concluded budget oversight hearings, and is in the process of holding committee mark-ups at which we vote on the reports put forth by each committee. The reports are based on the testimony and feedback from the budget oversight hearings. Then, Councilmembers will participate in a Budget Work Session on July 8 to discuss each committee's recommendations before final votes are taken. The work session will be televised and streamed online. Our office has been working day and night to review the proposed budget and preparing our changes and amendments. Final votes will occur in late July and early August. So, there is still a lot of work left to do in the budget process.
Once we wrap up the budget votes, I will send a budget focused email, detailing where investments are being made and the Ward 1 specific budget items which will include improvements to our parks, public spaces, and schools.
I also look forward to providing you an update on the important work we are doing in the Committee on Human Services, continuing the focus on preventing and ending chronic homelessness, rebuilding our shelter system, supporting our low income families and people with disabilities and now also strengthening our independent ethics board and agencies.

Park Morton
One budget related item that we can go ahead and celebrate is related to the Park Morton redevelopment project. Park Morton has been slated for redevelopment under the New Communities Initiative since 2008. The project has seen significant delays over the years, but I remain committed to seeing this project through and fulfilling the promise that the District made to bring hundreds of new, affordable units to Ward 1. In 2020, I introduced emergency legislation to advance the construction of the new units.

However, in the Mayor's proposed budget, there was a drastic change without any input from residents, the Council, or the ANC - instead of building new units, the current units would be renovated. I immediately pushed back on those changes and urged Mayor Bowser to fulfill the promise made to the residents of Park Morton. As a result of me and my Council colleagues as well as members of the community pushing back, on June 25, we received an errata letter including an addition $23 million for the full redevelopment of Park Morton with larger public housing units, new affordable housing, a safer streetscape, and a new park.

Local Residents Voting Rights
I introduced the Local Resident Voting Rights Amendment Act of 2021. The legislation amends the District of Columbia Election Code of 1955 to expand the definition of the term "qualified elector" to include permanent residents for the purpose of local elections. If passed, permanent residents will be able to vote in elections for Mayor, DC Council, State Board of Education, Advisory Neighborhood Commissions, and Attorney General. Councilmembers Elissa Silverman, Robert White, Christina Henderson, Brooke Pinto, Janeese Lewis George, and Charles Allen are co-introducing the legislation.

Every day elected officials are making decisions about affordable housing, education, human services and more. People who have made their permanent homes here should have a hand in who represents them in government. The District of Columbia has long been a place that has welcomed immigrants into our community, and it's time to allow for their full participation in our institutions.
DC DMV
The DC Department of Motor Vehicles (DMV) extended the deadline for driver's license and identification (ID) card renewals from July 1 to September 9.
Adjudication Services will open on July 19
All Service Centers will open to walk-ins on July 20
Extended weekend hours for the 95 M Street SW location and Inspection Station on July 3, July 11, and July 18
Many services can be taken care of online, so before you head to a location in person, check out the DMV's website.
Community Updates
Funds to Reduce Gun Violence
The Office of Gun Violence Prevention partnered with the Department of Youth Rehabilitation Services to distribute mini grants (up to $5,000) to community members and organizations engaged in efforts to reduce gun violence in areas most affected. This is latest in a series of major investments the District is making to increase community safety. My team and I have been reaching out to residents and organizations that we know do this kind of work. If you know of any groups or organizations looking to make an impact on community safety, share this link and encourage them to apply! The deadline for individuals has passed, but it is still open for organizations until July 9.

Funds to Support Youth
Events DC is funding $500,000 in community grants to nonprofits that promote youth participation in the arts and athletics. More information on eligibility and deadlines here. Events DC also has informational sessions scheduled if you have any questions.

Business Walkthroughs Continue
As local businesses continue to adjust to reopening, I've been visiting our Ward 1 businesses to check in on them. I've visited 3 corridors so far, and the visits have been helpful in further understanding what some of our businesses and residents who live nearby are experiencing. The most recent walkthrough was last week along Columbia Road and 18th Street with the Adams Morgan BID. One of the conversations that we had was about the pizza boxes that overflow from trash cans on the weekends. The BID has asked pizza companies on 18th street to offer their slices in a box only when the slice is being taken home. We stopped by some of the pizza companies, and I spoke to owners to reiterate the support.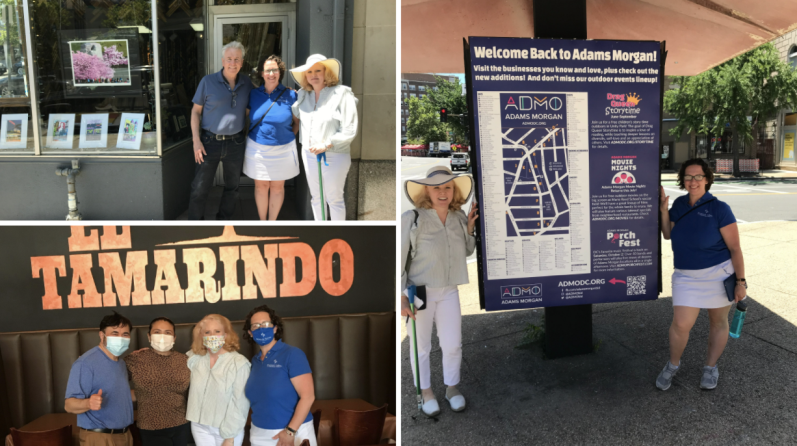 Resource Fair
My office teamed up with the Mayor's Office on Latino Affairs, agencies, and community organizations to host the Cardozo Family Fun Day Resource Fair. Together, we offered support with the STAY DC application, food distribution, legal services, workshops for parents, and more.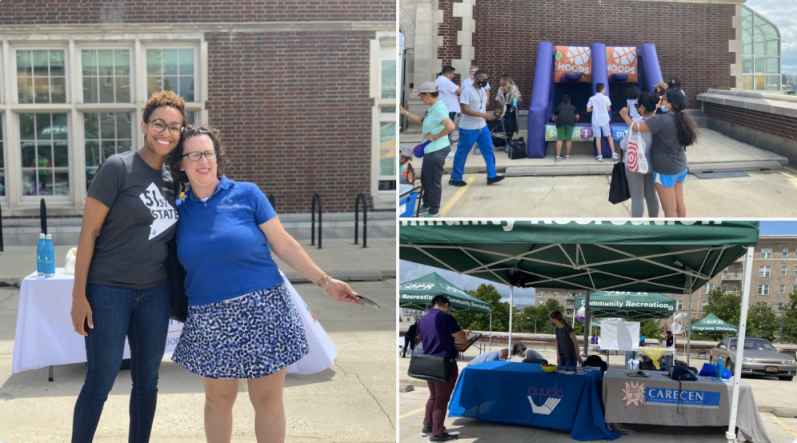 Rental Assistance
We still need your help getting residents signed up for rental assistance before the eviction moratorium is lifted. STAY DC is a financial assistance program for DC renters and housing providers who need support to cover housing and utility expenses and offset the loss of income. STAY DC can cover back rent, upcoming rent, utility expenses, and extended support. Click here for more information or call 833-4-STAYDC. The success of this program is critical to preventing eviction. If you know someone in need of rental assistance, please share the link or phone number with them. Assistance is available in multiple languages, and community partners are available to help people fill out their applications as well.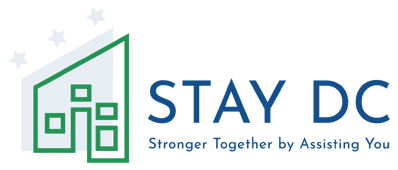 Celebrations!
Congratulations to all the students and families celebrating a graduation. It was an honor to be a guest for the Cardozo Education Campus' class of 2021 commencement ceremony! This was an incredibly tough year to be a student, but they persevered.

Congratulations to Park Road Community Church on their 90th Anniversary and to Shrine of the Sacred Heart on their 100th Anniversary! In a time of so much change and uncertainty, it's wonderful to be able to celebrate these two institutions, which have provided so much comfort to our residents over the years.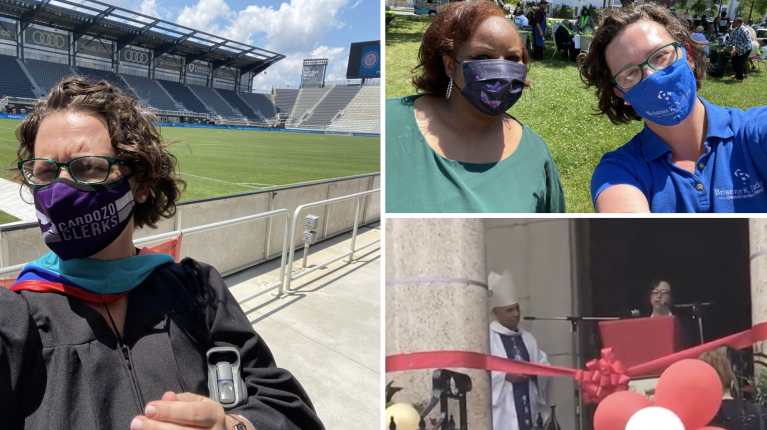 For the second year in a row, events for Pride looked different due to public health guidelines. I was happy to see that community members, once again, got creative and found ways to celebrate love and show up for our LGBTQ community in a safe way. My daughter Zoe and I had a chance to greet the Rainbow Ride participants as they stopped through Ward 1. Thank you to the ANC Rainbow Caucus, Greater Greater Washington, the Washington Area Bicyclist Association, and members of the Bicycle Advisory Committee and Pedestrian Advisory Committee for coordinating this ride!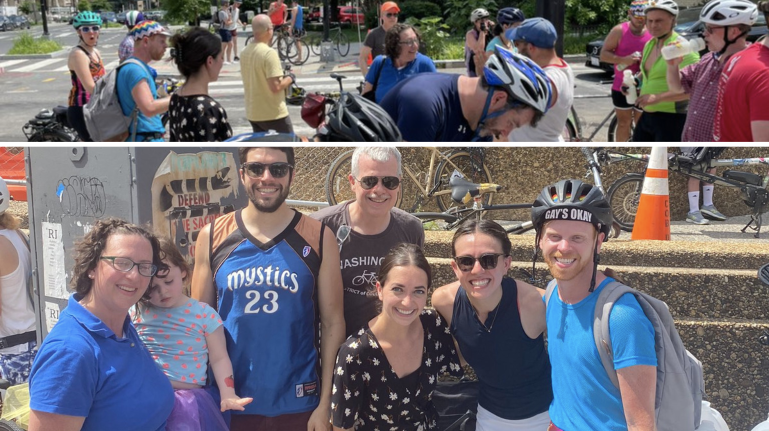 Little Free Library launched the Read in Color initiative at CentroNía, unveiling the first of 21 book-sharing boxes that will offer culturally diverse books in high-impact areas!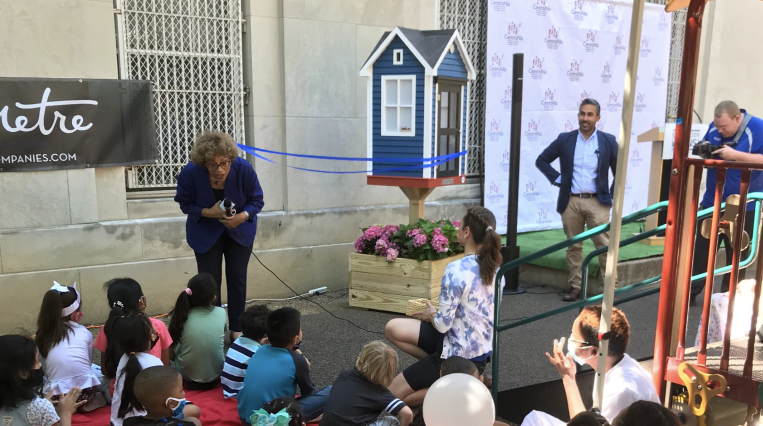 Summertime
Park At LeDroit
Earlier this month, we cut the ribbon for the new splash pad at The Park at LeDroit.
This splash pad and the other park enhancements were years in the making! In fact, I have worked to secure funding for the park since I first came into office. Thank you to all of the community members who supported the push to get funding in the District's budget for this. We did it!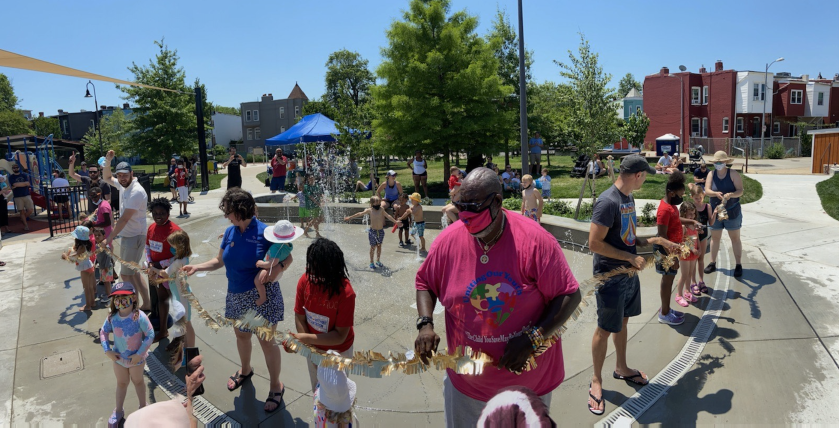 16th and Lamont
The re-designed park at 16th and Lamont has reopened! This project was a great team effort with my office, Commissioner Christine Miller, the Department of Parks and Recreation, and Department of General Services.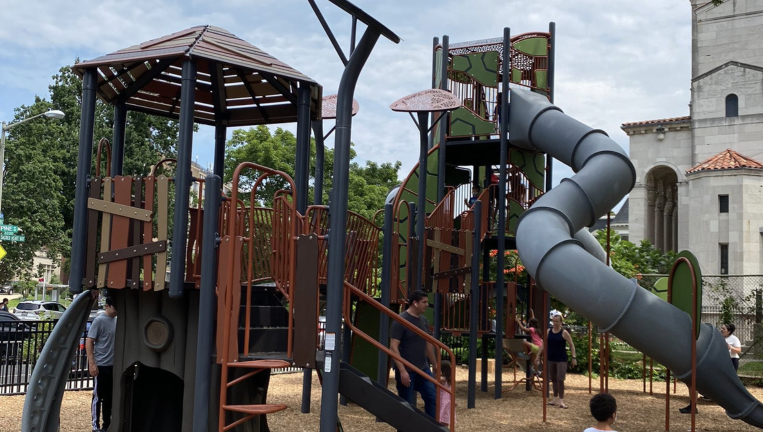 Outdoor Pools
As of June 28, outdoor pools are open 6 days a week.
Banneker Pool
2500 Georgia Avenue NW
Hours of Operation:
Mon, Tues, Wed & Fri: 10 am - 8 pm
Sat & Sun: 10 am - 6 pm
(Closed Thursdays)

Happy Hollow Children's Pool
2200 Champlain Street NW
Hours of Operation:
Wed, Thurs, Fri: 10 am - 6 pm
Sat & Sun: 10 am - 6 pm
(Closed 2 pm - 2:30 pm Daily)
(Closed Mondays & Tuesdays)

Park View Children's Pool
693 Otis Place NW
Hours of Operation:
Wed, Thurs, Fri: 10 am - 6 pm
Sat & Sun: 10 am - 6 pm
(Closed Daily: 2 pm - 2:30 pm)
(Closed Mondays & Tuesdays)

Rising Temperatures
While you're enjoying outdoor activities, make sure you are keeping an eye on the temperature and staying hydrated. On days that the heat index forecast reaches 95 degrees, DC Government opens cooling centers. You can see a list of cooling centers here. If you see someone struggling with the heat, please call the shelter hotline at 202-399-7093.

Fireworks
Fourth of July is a time to celebrate, but it's also the time with the most complaints about illegal fireworks. Most fireworks are illegal in DC. You can report the use of illegal fireworks or fireworks related complaints to the Fire Marshal's Office at (202) 727-1614 or email: fems.fireprevention@dc.gov. Safety tips from FEMS::

1. Don't buy or use illegal fireworks. Illegal fireworks include:
Any fireworks that moves or shoots a projectile
Any firework that explode such as firecrackers, cherry bombs, salutes, and roman candles.
Any firework that emit sparks of flame greater than 12 feet.
2. Avoid buying fireworks from individuals selling them from their personal vehicles, gym bags, or back packs. Penalties for selling illegal fireworks:
Any person found engaging in the use or possession of illegal fireworks in the District of Columbia will have the products confiscated and could face fines and penalties starting at $2,000.
3. Only buy approved legal fireworks from a licensed retailer or vendor. Legal fireworks include:
Sparklers less than 20 inches in length, torches, box fire, fountains, cones, dip sticks, paper novelty items, colored lights, and paper caps.
4. Tips on how to safely use legal fireworks:
Never allow children to light or play with fireworks.
Be sure other people and structures are clear (50 feet) before lighting fireworks.
Only light fireworks on a smooth, flat surface away from flammable materials.
Use longer lighting devices (A grill lighter is a good choice)
Never try to relight fireworks that have not fully functioned.
Keep a bucket of water in case of a malfunction or fire.