Ward 1 Newsletter: February 23, 2022
Hi neighbors,

It's been a very busy time for the ward and for our team! There's lots to get to today.

As always, I appreciate everyone in the community who's interested and involved in making Ward 1 such a great place to be. We appreciate the kind words, the concerns, and everything in between.
Brianne on Your Block - February
Join me for my monthly Community Office Hours

Monday, February 28 6:30 - 8:00 PM

Bravo Bar, 2917 Georgia Ave NW
COUNCIL UPDATES
Vaccination and Mask Requirements
Monday of last week, Mayor Bowser announced that she would rescind the vaccination requirement for most indoor venues effective the very next day: Tuesday, February 15.

I was outraged by this announcement and how little notice was provided to the public — and I quickly heard from parents, workers, immunocompromised residents, and others who also felt it was too soon. A Washington Post poll found that 74% of District residents want the vaccination requirement. Restaurant workers who face unvaccinated customers want it. Parents who make tough decisions about risks and their family every day want it. Residents in their twenties and thirties suffering from long COVID want others to avoid the same fate. And certainly the 1300+ residents we've lost to COVID-19 would have benefited.

The Executive has withdrawn one of our few protections against COVID-19 at a time when cases are stuck at their pre-Omicron peak and two of six metrics tracked by DC Health are worsening. Not to mention that people are still dying.

The District's State Epidemiologist Dr. Anil Mangla recently testified that restaurants and bars remain a leading source of COVID-19 transmission and that the District was "nowhere near" where it should be to lift the vaccination requirement.

So I responded with an emergency measure to reinstate the vaccination requirement for 90 days. While I believe the measure had majority support in the DC Council, we couldn't get the 2/3rds majority of nine votes required to pass an emergency bill.

An additional 90 days is critical because meaningful protection for children under 5 and immunocompromised people is almost here. Antiviral treatments that are 90% effective will soon be available to everyone, even people who can't get vaccinated. And another 90 days gives us time to vaccinate our youngest children, preventing the spread and mutation of COVID-19.

Last week was disappointing, but I am not deterred. I'll continue to engage in the hard work of making the city safer, healthier, and fairer. I want to thank the Councilmembers who stood with me and everyone else who joined me in advocating for our most vulnerable community members and the health of our city.

I implore the Mayor to do the right thing here. I implore her to follow the science, not the lobbyists, and to fight for workers, young people, sick people, and everyone else whose voices are so often ignored in these conversations.
Performance Oversight Hearings
The Council is in the middle of yearly performance oversight. If you are interested in testifying at upcoming hearings, you can find the performance oversight schedule here. This month so far, as chair of the Human Services Committee, I held two hearings on agencies under our jurisdiction:
Department on Disability Services (DDS) and Office of Disability Rights (ODR)
In many ways, these two agencies are on the threshold of a new era. The number of DDS consumers who once lived at Forest Haven is declining, and the agency is having to adapt to a younger demographic group that has never been institutionalized. We are also about to amend the eligibility standards to qualify for services under the Developmental Disability Administration, allowing residents who have been denied services in the past to qualify for the first time. Council takes its final vote on that legislation in a matter of days, and I look forward to working with the Executive on its implementation. The Office of Disability Rights is in the first year of its new Olmstead Community Integration Plan, with new areas of focus to bring full accessibility to all aspects of government. It is also the first year of ensuring that Mayoral press events have consistent ASL interpretation.

The disability services sector is not immune to the seismic shifts in workforce and hiring. In many cases, we know the answer to these problems – it's ensuring that workers we have called essential get the pay and benefits commensurate with that label. I have worked hard on making that a reality for workers that provide direct services to people with disabilities. I introduced and passed the "Direct Support Professionals Payment Rate Amendment Act of 2019," which requires these workers be paid at least 117.6% of the DC minimum wage, and I continue to work on providing additional funding to recruit and retain these critical workers.



Child and Family Services Agency (CFSA)
I heard from dozens of witnesses while chairing CFSA's recent oversight hearing about the agency's work to protect District children and keep District families together. Along with some 50 pages of questions recently submitted to the agency, it's some of the toughest oversight they've ever had. The confirmation of Robert Mathews as the agency's new director is a step in the right direction. He envisions a more comprehensive child and family wellbeing agency, not just a foster placement agency.

But CFSA still has lots to answer for, and I'm using my oversight position to get detailed answers to serious issues with the agency:
A full record of the agency's use of kinship diversion, with or without naming the caregiver a foster parent

Deaths of children, especially in the care of a family member or caregiver

Housing for youth who age out of foster care
To read more about the work I've done to strengthen our child welfare system, click here:https://brianneknadeau.com/updates/update/councilmember-brianne-k-nadeaus-work-child-welfare-system
New Bill Introductions
On February 14 I introduced the Equal Access to Changing Tables Amendment Act of 2022 with five of my colleagues, four of them parents. The legislation will require government offices and private businesses to install facilities for diaper changing with equitable access for all genders. This would be implemented over time as facilities are renovated or updated. You don't have to have kids to understand that gender shouldn't dictate whether you can cleanly and discretely change a diaper. In buildings across the city, if you need a changing table, you're going to a women's restroom or improvising somewhere. This isn't equitable. Or clean. And best of all, it's easy to fix.
On February 18th, I introduced two bills that continue to advance our work on eliminating traffic violence and deaths on our streets. They serve to complement recent introductions, the "Walk Without Worry Amendment Act of 2021," which I introduced last year, and bills I enthusiastically co-introduced with colleagues: the "Safe Routes to School Expansion Regulation Amendment Act of 2021," introduced by Councilmember Lewis George, the "Upgrading Tactical Safety Projects Amendment Act of 2022," and the "Safer Intersections Amendment Act of 2022," both introduced by Councilmember Mary Cheh.
The SMART Signage Amendment Act will contribute to the District's mission to reduce and ultimately eliminate major injuries and fatal crashes on our arterial streets, which constitute less than a quarter of our roadways but account for close to 70 percent of pedestrians struck by vehicles.

The SMART Signage Amendment Act of 2022 sets the standard speed limit on major and minor arterial roads at 25 miles per hour, and requires the District Department of Transportation ("DDOT") to implement three changes to posted signage:
Speed limit signs on arterials must be posted at a frequency no fewer than 4 per mile;

New, clearer signage must be developed notifying corridors and locations where automated traffic enforcement (such as speed cameras) are in effect, and;

Major entryways to DC from neighboring states must have new signage alerting drivers to traffic safety laws.
Currently, arterial speed limits are inconsistent and often inequitable; they can range from 35 mph on New York Avenue, NE, to 30 mph on Georgia Avenue, NW, to 25 mph on minor arterials like Foxhall Road, NW.

Simply put, we should not be allowing for speeds on arterials that pose a serious risk to pedestrians, especially when a vehicle must be traveling at 11 miles over the posted limit to be issued a speed camera citation. That means on a street like New York Avenue, a vehicle can be going 45 miles per hour before getting cited, a speed at which a pedestrian will only have a 50 percent chance of surviving if struck. In fact, lowering arterial speed limits to 25 mph was a goal in the original DC Vision Zero Action Plan.

While posting more speed limit signs is no substitute for a redesigned street, controlled studies have shown that simply increasing the frequency of signage can have significant effects: a 22% reduction in crashes, and a 54% reduction in drivers going >20 mph over the limit.

The same goes for automated traffic enforcement notification. I imagine many drivers never take notice of the small "photo enforced" signs occasionally posted throughout the District. The goal of our automated enforcement program is to reduce dangerous driving, not simply to issue fines, and if a driver does not get a ticket because they were made aware of a camera, that should be considered a success.

Finally, on almost all major entryways to the District, there is very little guidance given on DC's traffic safety laws. This is especially concerning given how many out-of-state drivers come to and through DC every day. If we are passing best practice traffic safety laws, it makes little difference if a significant number of drivers are never made aware of them.
The Prioritizing People in Planning Amendment Act of 2022 eliminates the outdated "level of service" metric developed to assess roadways and intersections, and requires the DDOT to develop alternative metrics that better reflect DC's climate goals and the way our residents already use our streets and sidewalks.

Vehicle level of service, or LOS, grades streets and intersections from A to F depending on their traffic flow. LOS was designed in the 1950s and 1960s, an era of significant highway expansion, expansion that was often at the expense of communities were seen as in the way of those highways.

Because the current conception of LOS is such a one-dimensional metric, only looking at queueing and speed of vehicles, it favors projects that widen roads. Pedestrians, cyclists, and transit riders are quite literally invisible in a traditional level of service model.

In lieu of level of service, this legislation directs DDOT to develop a series of alternative measures that are more context appropriate: measuring the total number of people a street can move, or the potential of a project to increase vehicle miles traveled and contribute to overall congestion and carbon emissions.

While it may appear to be a minor change to an engineering concept, phasing out LOS will have significant positive ripple effects on the types of projects that get designed and approved in DC. Just as LOS has quietly put a thumb on the scale in favor of more roads and highways for almost a century, we can do the same for streets that are safer, greener, and better at moving (and gathering) people.
COMMUNITY UPDATES
Public Safety
It's a challenging time in Ward 1 and across the District as we grapple with an increase in violence in our communities. We deserve to feel safe. No level of violent crime is acceptable, but the recent citywide rise has been troubling, and several high profile incidents have taken place in our ward.

I understand how concerned everyone is with the two acts of violence that occurred on Monday in Columbia Heights. I was there at 14th and Harvard when shots were fired on Columbia, which was very scary. That, combined with the homicide further north in Columbia Heights hours later is simply unacceptable. I'm raising two little ones here in Park View and understand that we're all in the crossfire. We will do all we can to get those shooters and their guns off our streets.
When violence happens like this in the community, my team jumps to action. We immediately establish contact with MPD, the Deputy Mayor's Office for Public Safety and Justice, our violence interrupters and Ward 1 neighbors. We work to determine the cause and effect of the violence and craft a response that addresses both needs.

No two crimes are the same here. Every response must be different.

Beyond the response in the moment, I believe we need to prevent the violence. There are many different resources needed to address gun violence in our community and I have worked to secure all of them for Ward 1.

First and foremost, the biggest challenge we have right now is the proliferation of firearms. Gun violence is increasing around the country, a trend that we're seeing in DC as well. MPD works incredibly hard to get guns off the street and the ATF is now working with the city to link weapons used in crimes here to other crimes in the region to help connect crimes and identify shooters. I have passed laws to help get guns off our streets and I'll continue to work on this critical issue.

This year's budget has more than half a billion dollars for MPD. For the first time, we also have truly significant investments in violence prevention programs, totaling $214 million over the next 4 years. When I first took office we had $0 coming to the ward for violence prevention. Now we have millions of dollars each year. Here's a bit more about the totality of the work I'm doing regarding public safety: https://brianneknadeau.com/issues/public-safety-and-criminal-justice.

I'd appreciate you taking the opportunity to subscribe to my newsletter while you're on the site, so that I can keep you informed on this work.

We want to hold people who harm our community accountable. We also want to achieve long-term results and better public safety outcomes for all residents. There are several programs and initiatives that are being launched, implemented, and expanded, including:

We are expanding the Pathways Program, a transitional employment program working with residents most likely to commit or be a victim of gun violence. We approved funding for a major expansion of the Pathways Program. Research suggests that 80% of all local violence is caused by less than 2% of the population, a small group of people. If we can reach people before they pick up a gun, we will create safer neighborhoods.

We have increased the number of violence interrupters in our neighborhoods. Right now, violence interrupters are in certain neighborhoods, like Park View and Columbia Heights, because the program takes a very targeted approach so that the trained violence interrupters can build meaningful relationships with the communities they serve. Here is a link with more information about their work and data on the efficacy of the programs thus far: https://onse.dc.gov/service/measuring-impact

And there are also investments being made in community grants for neighborhood action plans, workforce development programs, youth safety initiatives, trauma-informed mental health services, and recreation opportunities.

Both MPD and our community partners have been working around the clock to address the personal conflicts that have led to these shootings, and try to prevent retaliation and further violence.

In the MPD Performance Oversight Hearing I had the opportunity to talk with Chief Contee about reducing gun violence in Ward 1, what role the police play in that effort, and how we augment that role with community-based services. And in a February 8 hearing I questioned the Director of the Office of Neighborhood Safety and Engagement (ONSE) and the Attorney General about the efficacy of prevention measures, adequate resources, and our path to ending violence in our communities.

The rise in crimes comes at a critical time as our government evaluates community-based violence prevention programs. I'm proud that these programs are fully funded and I believe in our public health approach to addressing public safety.

I'm also thrilled to announce that Safe Passage workers are now in positions across the ward to ensure that students can get to school safely. The Office of Safe Passage, which I voted to fund, hires staff to monitor routes to school and to stop gun violence and traffic violence near our schools before it happens. They should be visible from 7:30-9:00 AM and around dismissal. The yellow routes on this map are where you can expect to see Safe Passage staff in our ward.

Department of Public Works (DPW)
For months, we've fielded calls and emails from constituents who say that trash isn't being collected, leaves aren't being picked up, and problem cars aren't being towed. I've seen it with my own eyes and share your frustration: my leaves were just picked up this morning. It's true that DPW has been dealing with COVID-19 staffing shortages, but we still need these basic services, especially in DC's densest ward. Clean streets and alleys aren't a luxury, they're a necessity. And it shouldn't take a 311 request to ensure these services are provided.

In DPW's February 8 oversight hearing, I joined our neighbors and other Council members in holding the agency to their responsibilities and getting a plan for resolving outstanding service requests.
Rehousing neighbors at Suntrust Plaza
Thanks to the combined efforts of ANC commissioners, Miriam's Kitchen, District outreach services, and my office, we've been able to maintain contact and offer new housing to everyone in the encampment at 18th and Columbia in Adams Morgan that started last February. We have work to do to make this a shorter process, but I'm proud to demonstrate that we can offer housing and wraparound services and end homelessness, without causing more harm or trauma.
DCPS Test to Return/Test to Stay
There have been a number of questions about Test to Return as students return from the February break. These guidelines apply to the April break, too. Students or guardians need to upload their COVID-19 test results on February 27 to return to school.
Under DC Health guidelines, a positive COVID-19 test overrules subsequent tests, even if they're negative. But new guidelines use the severity of the COVID-19 case to determine how long to quarantine. This means:
Anyone with severe symptoms or who is immunocompromised must quarantine for 10 days.

Anyone with mild to moderate symptoms must quarantine for five days. If fever-free for 24 hours (without medication), a child can return to school on day 7 with a tight-fitting mask. If a child tests positive on day 5 or later they must be quarantined for a full 10 days.

Anyone who is asymptomatic but returns a positive test must quarantine for 7 days.

DCPS is expanding the Pre-K Test to Stay pilot. All Pre-K students will be tested on site during the week if a COVID-19 case is reported in a classroom, not just after the weekend. More information is available here.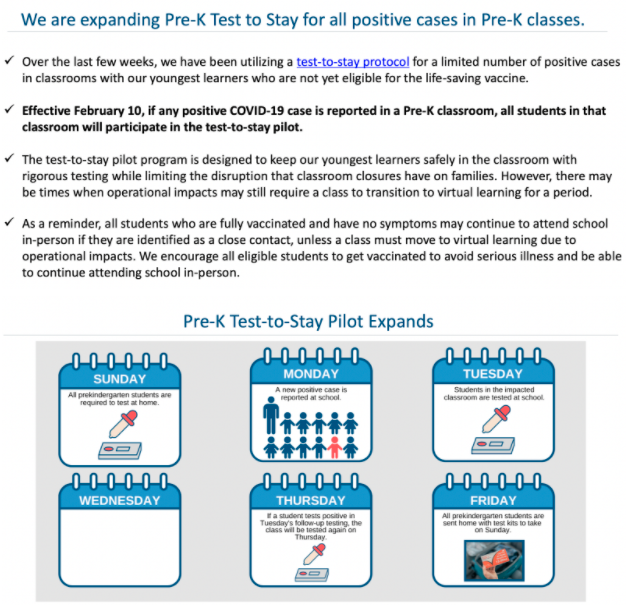 Department of Parks & Recreation (DPR) Summer Camps are Coming!
Registration opens April 4 on a rolling basis for these camps! Reduced rates are available; learn more about applying here.
Little STEAM Engine




An introductory, age-appropriate camp that explores science, music technology, art appreciation, and more. Ages 4-6

Full STEAM Ahead, DC!




Coding, music, technology, art appreciation, and other activities as well as enriching subjects for campers ages 7-10.

Cookery 202, Jr.




Campers explore the kitchen and practice culinary techniques and apply them to a variety of cuisines and dishes. Ages 7-10.

Dance Explosion




Campers learn different dance styles and explore their origins. No dance experience or background is necessary. Ages 5-8.

Verano




Campers develop and reinforce Spanish language skills through music, stories, arts and crafts, and theatre. Ages 3-5.

Aqua Day Camp




Campers learn breathing techniques, swim stroke mechanics, and water safety awareness. Advanced activities depend on the pace of the group. Ages 6-13

​​Discovery




Grade school-age activities allowing campers to "discover" their global community. Ages 6-10.

Little Explorers




Preschool activities and programming with a focus on age-appropriate socialization. Ages 3-5.

Sports




Camp with a fun element of skills and drills for popular youth sports. Ages 5-12.

REC




A theme-based camp that combines all types of recreation with a rotating camp curriculum. Ages 6-12.
For a full schedule, fees, registration, and more, see DPR's Summer Camp page.
Vendors United Food Cooperative
On Wednesday February 16, DC street vendors and indigenous chefs launched the Vendors United Food Cooperative with vegetarian and vegan takes on traditional family recipes. A subscription service that's like community shared agriculture (CSA) for meals, the cooperative will set up in the Trolley Park at 11th and Monroe in Columbia Heights.

As a Councilmember who's introduced bills to decriminalize street vendors and reform the licensing process that discriminates against them, I welcome them to our ward and wish them the best.
YMCA Anthony Bowen
I wanted to highlight two upcoming programs at Anthony Bowen YMCA:
2/22/22: A COVID-19 town hall about the mental health impact of the pandemic

2/23/22: An opening reception and artist roundtable for Impact, an art show about the impact of COVID-19 and Black resilience in our communities.
Constituent Services
As I'm sure most of you know, our office works incredibly hard to ensure we are helping Ward 1 residents. The pandemic has also increased the demand for assistance, and we're handling upward of 100 cases per month.

Many of these cases are calls for assistance when city services are not working like they should. We're happy to help with cases like these, but if you have a few minutes, please file a 311 report with your request and pass along the service number for your report when you contact us. This is extremely useful for accountability and creates a reference point for the issue that the agency understands.

It only takes a few minutes to file a report by calling 311 or via the 311 app.