Ward 1 Update: Expanding Services, Leaf Collection, & Halloween Events
It's looking like a rainy Halloween weekend. Boooooo! Be safe out there everyone, and be on the lookout for a very cute cow and pumpkin combo who will be out and about representing our household at all the fun events listed at the end of this email!

Brianne
VACCINE UPDATES
Booster Shots
Last week, DC Health released the District's guidance on booster shots.
For individuals who received a Pfizer-BioNTech or Moderna COVID-19 vaccine, the following groups are eligible for a booster shot at six months or more after their initial series:

65 years and older
Age 18+ who live in long-term care settings
Age 18+ who have underlying medical conditions
Age 18+ who work or live in high-risk settings

For individuals 18 and older who received the Johnson & Johnson COVID-19 vaccine, booster shots are recommended for those who were vaccinated two or more months ago.
You can find more information at coronavirus.dc.gov.
Vaccination Plans for Children 5-11 Years Old
Today, DC Health announced plans for vaccinating children against COVID-19. Once the pediatric Pfizer-BioNTech vaccine is approved and distributed, families will be able to be vaccinated at more than 60 pharmacies, hospitals, and health centers in DC. DC is expected to initially receive 24,600 doses that will be distributed to pharmacies, hospitals, and health centers across DC. You will be able to find where the vaccine is available on vaccines.gov. Families will also be able to go to District operated pop-up sites set up specifically for 5-11 year olds. There are two dates set so far Ward 1.
November 9: Bancroft Elementary School, 1755 Newton St NW
November 11: Marie Reed Elementary School, 2201 18th St NW
(close by) November 17: Garrison Elementary School, 200 S St NW
You can find all the dates and locations for the first two weeks of the pop-up vaccination clinics here. Community groups may also request pop-ups through vaccineexchange.dc.gov.
COUNCIL UPDATES
Expanding Disability Services
The Committee on Human Services held a public hearing on the Developmental Disability Eligibility Reform Amendment Act of 2021. I introduced this bill earlier this year to expand access to disability services. Right now, individuals with developmental disabilities are not eligible for certain services unless they also have an intellectual disability. This means that when children with developmental disabilities like Autism Spectrum Disorder, for example, age out of school, certain support services they have had may be phased out. While not all people with developmental disabilities need support, for those who do, supports can make all the difference for living a full life with employment, independent housing and other activities. Many other states already provide these services, and the District needs to catch up – and stop leaving our residents with developmental disabilities behind.
I worked with the Department on Disability Services, Department of Health Care Finance, legal service providers, service providers, advocates, and staff from the Committee on Health to propose this solution. Thank you to Councilmembers Elissa Silverman, Robert White, Anita Bonds, Janeese Lewis George, Mary Cheh, Charles Allen, and Trayon White for co-introducing the legislation.

Increasing Transparency in Education System
Here in the District of Columbia we have an education system unlike anywhere else in the world. We have mayoral control of our public school system, complete school choice, and a robust charter school sector. But if I had to sum up this complicated system in one word, it would be: opaque.

The lack of transparency throughout our system is a common theme as I hear from parents and teachers. More transparency, more data and more information is what we need to guide the future of our education system and help our children access the education they need and deserve.
This week I attended a hearing on two bills that would make the Office of the State Superintendent (OSSE) an independent agency. Currently, the agency leader who oversees the mayor's authority over schools, is appointed by and reports to the mayor, making it difficult to have true accountability or checks and balances in our education system. While neither of the bills would eliminate mayoral control, they have the potential to increase transparency.

Upcoming Hearing on Encampment Pilot
I know that many residents are concerned about the safety and well-being of unhoused individuals living in encampments. After the launch of the CARE pilot, a program with the goal to providing housing resources to residents in encampments, there was a horrible incident where heavy machinery was used to clear a tent with a person still inside. I immediately contacted the Deputy Mayor of Health and Human Services to ask that the protocols of the program be revised. Yesterday, there was another scheduled clearing. I went in person with my team to observe and ensure that the city was cautiously following established protocols that are meant to keep residents safe during clearings.

We absolutely want residents to receive housing resources and supports especially before the cold weather, and I've led the fight for the funding of many of the vouchers and supports being offered. However, we must make sure that we are doing it in a way that is truly a sustainable and effective solution to ending chronic homelessness. I've asked the Deputy Mayor of Health and Human Services to appear before the Council next month to discuss the program and update us on the early numbers and data. That roundtable will take place on November 10 at 9AM and will be streamed on DC Cable and my website.

Redistricting
If you are at your computer today, be sure to tune into the Ward 1 roundtable at 2:00PM. I've mentioned in previous newsletters that DC is embarking of the decennial process of redrawing ward and ANC boundaries to ensure all residents have balanced and fair representation. The Council's Sub-Committee is currently conducting ward-based roundtables to hear from residents. These roundtables will help inform the Sub-Committee on Redistricting before they provide recommendations to the full Council on redrawing the ward boundaries. The process for ANC boundaries will be a little later on in the process, and you can find more information about the entire redistricting process at elissasilverman.com/redistricting.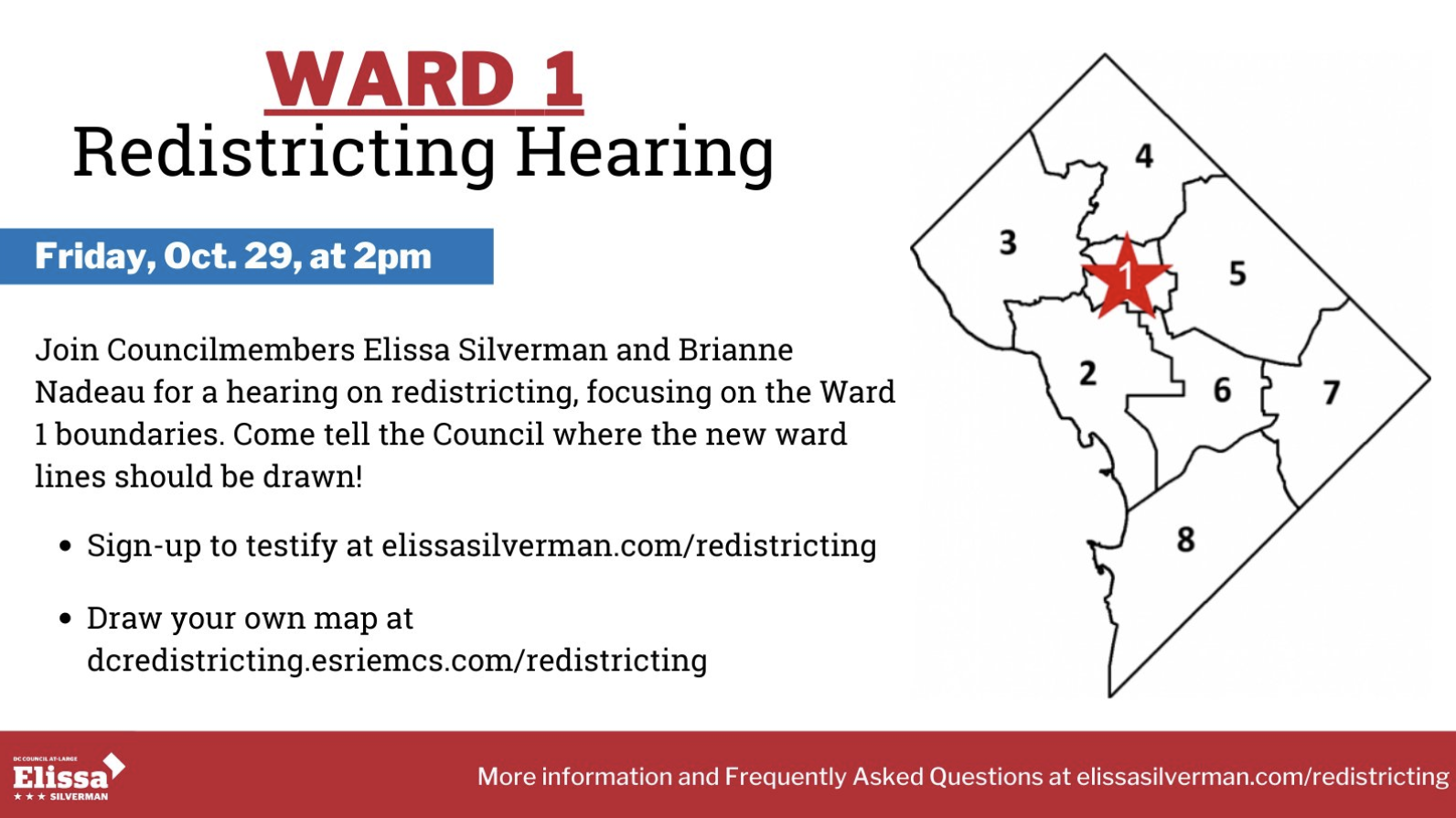 Keeping Residents Housed
Earlier this week STAY DC stopped accepting applications from residents in need of rent and utility assistance due to lack of funds. I joined a Sense of the Council led by Councilmember Janeese Lewis George calling on the U.S. Treasury to provide the District with additional rental and utility assistance – and calling on Mayor Bowser to act now by drawing from DC's vast resources to dedicate local funds to preventing widespread evictions in our communities. If additional federal aid does not arrive, the District will need to step in to prevent a wave of evictions.

Upcoming Hearing on Ranked Choice Voting
District residents have been discussing ranked choice voting for some time now. In July, Councilmember Christina Henderson introduced the VOICE Act, which would introduce ranked choice voting for the 2024 elections and a public education campaign for the transition. Click here to read about how it works and the impacts it could have on our future elections, if passed. The hearing on the legislation will be on November 18.
COMMUNITY UPDATES
Columbia Heights Civic Plaza
In a previous newsletter, I shared how I convened a meeting at the Columbia Heights Civic Plaza to create an action plan with all of the relevant government agencies and community partners to fulfill the original vision and really activate the plaza as a vibrant community space. In just one month, we've already seen agencies take steps to help improve the space. Check out some of the progress pictures: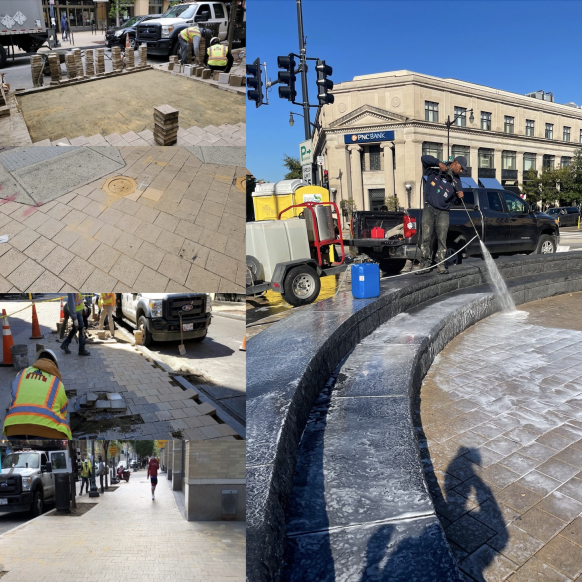 We'll keep working through the list of improvements needed and keep you updated.

I also had a chance to check-in with our clean teams! I created and funded the clean teams. In this last budget season, I included funding to expand the clean teams. We're in the processing getting new folks trained, procuring the necessary supplies, and scouting out the areas where they'll be most needed. If you see them in your neighborhood, be sure to thank them for their hard work!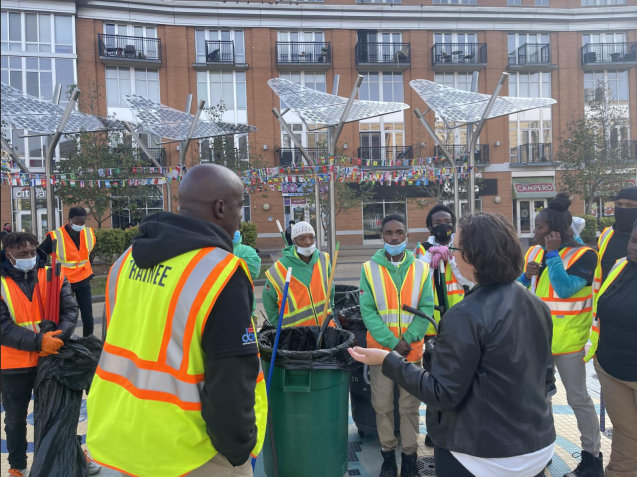 Leaf Collection
The DC Department of Public Works (DPW) will begin vacuum leaf collections on November 1 for residents who receive DPW trash and recycling services. Both collections continue through late January. For any missed leaf collections, residents can call 311 or visit 311.dc.gov to open a "Leaf Season Collection" service request. Schedules and frequently asked questions can be found at dpw.dc.gov/service/leaf-collection.

Mail Delivery
Congresswoman Eleanor Holmes Norton has been working to improve mail delivery in the District. The issue has impacted all eight wards. In September, she sent a letter to the Unites States Postal Service (USPS) about the delayed and undelivered mail. Congresswoman Norton received a response promising improved service. If you are still having issues with mail delivery, contact the Congresswoman's office so that they can have an accurate record.

#BlackburnTakeover
I also had the opportunity to stop by Howard University to check in with the students currently protesting. I have brought their demands to the Howard University administration, and will continue working with the students to lift up their voices and address their concerns.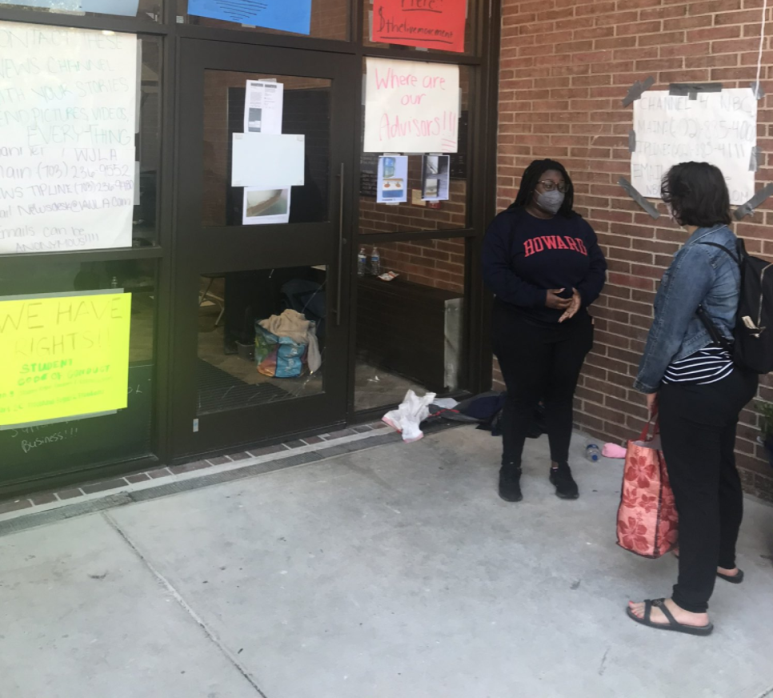 EmpowerED Teacher Festival
I was happy to join EmpowerEd last weekend for their DC Teacher Voice Festival. The event created space for teachers, advocates, and education leaders to amplify teacher voices.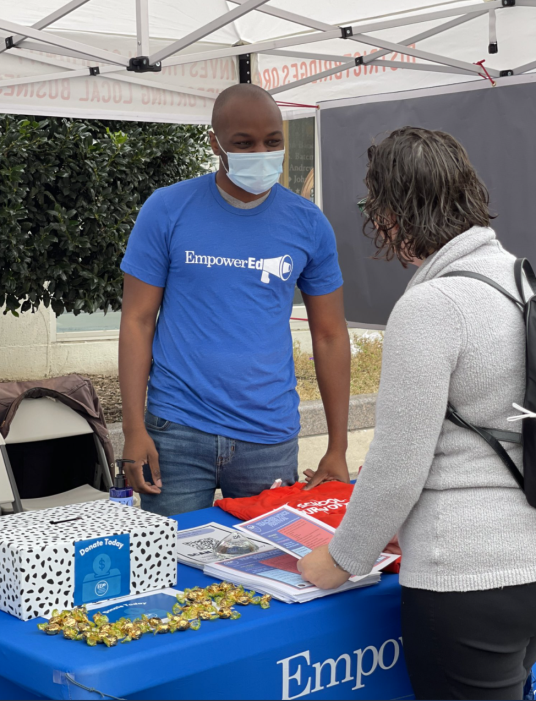 Happy Halloween!
A few safety reminders before the festivities begin:
Cross the street at corners / crosswalks and not between parked cars. Wear bright colors and/or add reflective tape to costumes or bags.
Drivers: Slow down and be especially alert in residential neighborhoods.
Children should have their names and addresses attached to their costumes.
Accompany small children all the way to the doors.
Homeowners should ensure that their walkways are cleared of debris on which children may trip and fall.
Discard all unwrapped or loosely wrapped candy or fruit. If in doubt, throw it out.
Stay home if you're sick.
P.S. Remember to recycle your decoration pumpkins and gourds by dropping them off at any of the nine DPW food waste drop-off sites at Farmers' Markets. The Ward 1 location is the Columbia Heights Farmers' Market (14th and Kenyon Streets, NW) Saturdays 9:00AM-1:00PM.
COMMUNITY EVENTS
HOWL-oween Parade Columbia Heights: October 29, 5:30 – 7:30 PM
The Halloween Parade (Columbia Heights Recreation Center) will be for children and pups to dress up in costumes and walk around the community. Candy And refreshments will be provided.

Adams Morgan Apple Festival & Pie Baking Contest: October 30, 10AM – 1PM
Each fall, the Adams Morgan Partnership teams up with Licking Creek Bend Farm to organize a family-friendly apple festival and apple pie baking contest in Unity Park (1771-1795 Columbia Rd NW). This year I'm returning as a judge. Yum! For details, visit admodc.org.

Parktober Fall Fest: October 30, 1PM – 7PM
Meet friends at the Parkview Recreation Center (693 Otis Pl. NW) for a DJ, food, fun and more for the whole family!

Fall-O-Ween: October 30, 3PM – 7PM
Join neighbors at Common Good City Farm (300 V St. NW) from 3-5pm for farm tours, crafts and food. After that, meet up from 5pm-7pm for Trunk-or Treat at the Park at LeDroit—Costumes encouraged!

Columbia Heights Halloween Costume Walk: October 31, 3PM – 7PM
Safely celebrate Halloween in Columbia Heights. Candy stations and activities will be set up throughout the neighborhood. Check out the map on the Facebook event page.

Hobart Halloween: October 31, 5PM – 10PM
Hobart Street NW will be closed to driving traffic on Halloween evening from 5-10pm. Happy Trick-or-treating!